Les Estudines Jeanne d'Arc, Orléans
Studio "One bedroom apartment"  "City Pack"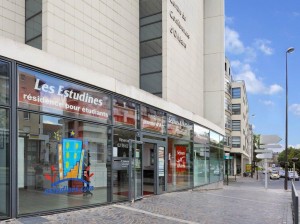 In the middle of a building complex that includes the Orleans Conference Center, the Jeanne d'Arc' Les Estudines Residence' offers studio and one-bedroom apartments, warmly furnished and fully equipped for your comfort.
NEGOTIATED PRICE: 654€ for 30 nights (21,80 €/night)
This negotiated price is for a minimum stay of 30 nights.
We do not make reservation for you, so to reserve this accommodation, please contact Les Estudines directly (see link below).
Don't forget to mention that you will require accommodation on our application form. We will then pass on your name to Les Estudines so that you benefit from this price.
The Residence is located near the city center and the Orleans train station, close to shops, sports facilities. Easy access to public transportation.
The Tram "B" is at 3 minutes walking distance and will take you to TEFL Prestige (10 minutes with the Tram).
http://www.estudines.com/uk/residence-housing-student-orleans-12-12.html